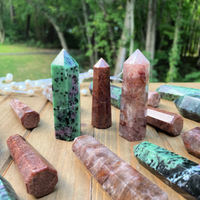 ✨ FREE GIFT ✨
Sign up for a 6 or 12 month plan & receive a FREE Crystal Tower! You will randomly receive: Ruby Zoisite, Garnet or Golden Healer Quartz.
Subscribe here!
September sneak peeks
"Crystal Magic" Box
This box features 6 magical tools, affirmation card, crystal meditation + tips for cleansing and programing your crystals for
support and healing. Retail value $100+.
Now Shipping
Reserve my box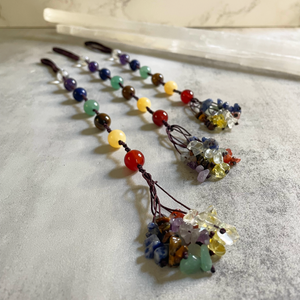 SEVEN CHAKRA TASSEL HANGER $12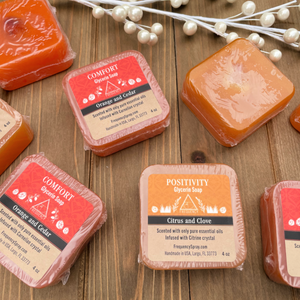 POSITIVITY OR COMFORT CRYSTAL SOAP $9
What's inside the box?
✔️ Discover: crystals, jewelry, card decks, books, magical home decor, ritual items and so much more.
✔️ 5-7 high quality items in each box that align with the monthly affirmation. 
✔️ An affirmation card to inspire change & help focus your thoughts.
✔️ Detailed insert with beneficial info like: crystal properties, meditations, rituals & self-care tips. 
✔️ Discover new spiritual teachers that offer valuable wisdom & inspiration. Examples: podcasts, worksheets, videos & trainings.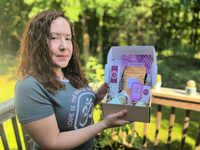 Subscriber Benefits
✔️Save money every month & discover new unique products.
✔️Experience a personally curated spiritual journey. Advance on your path every single month.
✔️Reduce stress & anxiety with simple self-love practices.
✔️ Achieve inner peace with mindful tools & meditation practices.
✔️ Discover your intuitive gifts & learn to trust your instincts.
✔️ We provide the tools and guidance and you bring your intention and focus to create magic in your life.
How it works

1. YOU SUBSCRIBE
Our monthly box starts at $39.99. Save even more with our 3, 6 and 12 month plans. Cancel anytime. 

2. WE CURATE & SHIP
Receive 5-7 carefully selected items to enhance your self care & deepen your spiritual practice. Boxes ship on the 11th of each month.

3. YOU RECEIVE
Now it's time to focus on yourself & begin your journey of self-care. YOU DESERVE IT!
Get Started