LIMITED TIME OFFER
Pick a FREE Oracle or Tarot deck with select plans. Get ready to discover your intuitive gifts and learn to trust your instincts!
Click here to pick your deck
June sneak peeks
"Sacral Chakra" Box
This box features 6 magical items, affirmation card, meditation, spell jar ritual & practical tips to help balance your 2nd energy center.
Begins shipping 6/11
Reserve my box
What's inside the box?
✔️ Discover: crystals, jewelry, card decks, books, magical home decor, ritual items and so much more.
✔️ 5-7 high quality items in each box that align with the monthly affirmation. 
✔️ An affirmation card to inspire change & help focus your thoughts.
✔️ Detailed insert with beneficial info like: crystal properties, meditations, rituals & self-care tips. 
✔️ Discover new spiritual teachers that offer valuable wisdom & inspiration. Examples: podcasts, worksheets, videos & trainings.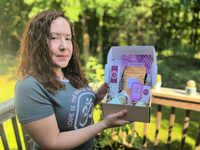 Subscriber Benefits
✔️Save money every month & discover new unique products.
✔️Experience a personally curated spiritual journey. Advance on your path every single month.
✔️Reduce stress & anxiety with simple self-love practices.
✔️ Achieve inner peace with mindful tools & meditation practices.
✔️ Discover your intuitive gifts & learn to trust your instincts.
✔️ Become apart of a family of like-minded individuals who believe that loving yourself is the key to true inner peace.
How it works

1. YOU SUBSCRIBE
Our monthly box starts at $39.99. Save even more with our 3, 6 and 12 month plans. Cancel anytime. 

2. WE CURATE & SHIP
Receive 5-7 carefully selected items to enhance your self care & deepen your spiritual practice. Boxes ship on the 11th of each month.

3. YOU RECEIVE
Now it's time to focus on yourself & begin your journey of self-care. YOU DESERVE IT!
Get Started